Smith Rock State Park Hikes
If you're looking for a breathtaking experience, look no further than Smith Rock hiking at the State Park in central Oregon. The park's well-maintained trails will take you past vertigo-inducing cliffs, bubbling creeks, and tranquil pools. Smith Rock State Park hikes also offer fantastic views of the surrounding countryside. So lace up your boots and get ready for an unforgettable adventure!
What is Smith Rock State Park?
Smith Rock State Park is a hiking park located in Oregon. This state park is located in what's called the "High Desert" which is named both for its dry climate and high elevation. It's a great place to visit in Central Oregon along with the waterfalls near Bend.
The park is known for its beautiful views and for being the birthplace of American sport climbing. There are over 1,800 climbing routes at Smith Rock, making it a climbers' paradise.
The park also offers hiking trails, camping, and fishing opportunities. It was named after John W. "Jack" Smith who discovered the rock formation while prospecting during the Gold Rush days. He later became one of the first people to climb on the rocks. In 1892 he founded the Smith Rock Climbing Club which still exists today.
History of Smith Rock State Park
Smith Rock State Park is one of the most popular state parks in Oregon. It was founded in 1933 as a place to fish and picnic. The park has since become a world-renowned destination for rock climbers and hikers.
Smith Rock's dramatic cliffs and unique geography offer challenges and opportunities for climbers of all levels, from beginners to experts. The park also features more than 30 miles of hiking trails, providing visitors with stunning views of the Cascade Mountains and the surrounding countryside.
Top Smith Rock State Park Hikes
There are various hiking trails to explore in this large Oregon state park. There are various trails with various terrains for all skill levels. There are also different amazing views to be had on each trail!
Along your trip through the canyon, you might see golden eagles, prairie falcons, mule deer, river otter and beaver. No matter which trail you choose, make sure you pack plenty of water and extra sunscreen due to this park being in the high desert!
Misery Ridge and Summit Trail Loop
The Misery Ridge and Summit Trail Loop is a 6 mile hike with amazing views. You get beautiful views along the river and great views from Misery Ridge and the summit.
This particular trail is mostly flat terrain. But, it does get a bit strenuous as you're hiking Misery Ridge. I will say, it is completely worth the uphill!
If you're going to hike the Misery Ridge Loop Trail, make sure you're wearing good hiking shoes and bring plenty of water!
Canyon Trail and Homestead Trail
The Canyon Trail and Homestead Trail are great for all skill levels. The 2 miles of trails take you on a nice walk along the river.
Since these a majority of these trails are within the canyon, it is very flat terrain making for an easy stroll. To get down to this flat terrain, you will need to walk down the hill to get into the canyon and then unfortunately make your way back up. Thankfully, the uphill is relatively short!
Wolf Tree Trail
The Wolf Tree Trail is another trail that is good for all skill levels. This walk takes you on the opposite side of the Crooked River than the Canyon Trail takes you.
This trail is mostly flat, with the exception of hiking back uphill to get to you car. But, because it is mostly flat, it makes for a nice stroll in the canyon.
Rim Rock Trail
Rim Rock Trail is a short one mile trail is good for all skill levels. This trail offers great views of the Crooked River as well as the large canyon walls.
The trail can be started either the first lot or the second parking lot. You can also access almost all the trails from this trail if you're looking for more than just a mile walk!
Rope de Dope Trail
The Rope de Dope trail is an easy 1.3 mile hike that is great for all skill levels. This trail is very kid-friendly because it's relatively flat and short! This loop makes for a great add-on if you're doing the Rim Rock Trail.
North Point Trail Loop
North Point Loop is just under a half mile. It's a nice short walk with amazing views of the canyon! This trail can be easily accessed from the third and fourth parking lot. There are also bathrooms that are easily accessible from here.
Rock Climbing At Smith Rock
In addition to its natural beauty, Smith Rock offers recreational activities including climbing on over 100 different routes ranging from easy scrambles to difficult multi pitch climbs. These include such classics as "The Nose" and "Cascade Crack."
Many of these routes are located in or near the large boulders that make up most of the area. Rock climbers can explore a variety of boulder problems, slabby walls, cracks, arêtes, pockets, roofs, and slabs. The rock is also home to several sport climbing areas, including:
Bouldering Wall – Located just off the main trailhead parking lot at the base of the mountain. This wall has around 30 traditional top-roping problems with bolted anchor bolts for added protection.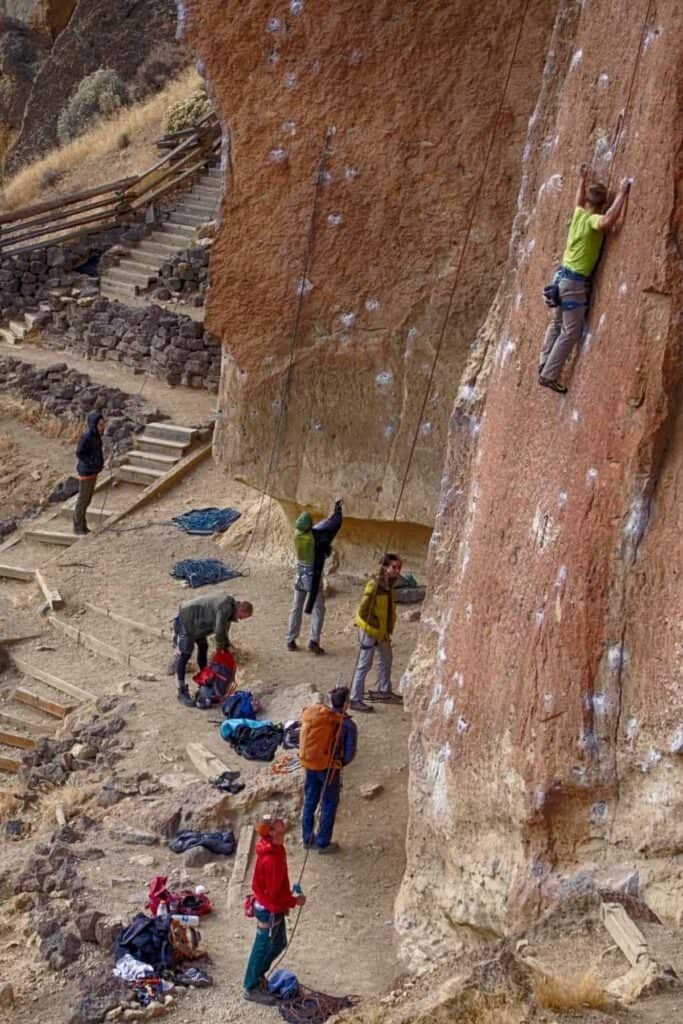 Crag Face – A popular cragging spot along the eastern side of the cliff where climbers access numerous short 5.10s and harder trad lines. There are two distinct sections on this face; one section contains mostly overhanging terrain while another features more vertical climbs.
Most routes range from V0–V4 in difficulty. Accessible via a small path that leads up through the trees past the boulder field area.
Why Experience Smith Rock State Park Hikes
There are so many beautiful views to take in on the various trails and hikes around the park. With over 650 acres to explore, you'll be able to experience mountain views, canyon views, and river views! There's a little something for everyone to enjoy.
FAQs
Planning a trip to Smith Rock State Park? We answered some of the most asked questions below!
How long of a hike is Smith Rock?
The park covers over 650 acres, but the length of the hike depends on which trail you choose. There are various trails that range from a short one mile out and back to 20 mile trails. If you're just looking for some scenic views while on vacation, you can absolutely do a short, easy hike!
Is Smith Rock a hard hike?
There are trails for all skill levels. While there are some harder hikes, like Misery Ridge trail, there are a lot of easier hikes. Just make sure you choose the right trail for your skill-level!
Are dogs allowed at Smith Rock?
Yes, dogs are allowed at Smith Rock, but they must remain on a leash.
What is the hardest climb at Smith Rock?
The toughest climb is the Assassin. It is a 5.14a climb that is considered to be one of the most difficult climbs in the world.
Why is Smith Rock famous?
Smith Rock is famous because it is a world-renowned climbing destination.
Related