Looking to visit a city park with some stunning views? Check out Little Island NYC! This quaint little park recently opened up in 2021 in the greater Hudson River Park. It also offers some stunning views on the west shores of Manhattan.
Whether you are visiting or one of the native New Yorkers, Little Island offers a free green space to be enjoyed with friends and family. Visitors get to take in all of the unique flora of this great place. Be sure to walk around the whole island to take advantage of all of the overlooks displaying the surrounding landscape.
Plus, take advantage of all of the events that Little Island hosts over the summer. Catch some concerts, learn to dance, or let the kids take part in some educational series. Note, some of the events do require tickets, so plan in advance!
Getting to Little Island
You'll find Little Island park at Pier 55 on the Hudson River in the Meatpacking District between 13th St and 15th St. The park is located about 10 to 15 minutes from Chelsea Market and the popular High Line park.
If you're looking to drive, be aware that there is no parking set aside for the park visitors. The nearest public paid parking garage is the MPG Manhattan Parking. The garage is located at 450 West 17th St between 9th and 10th Avenues.
Public transportation is a great option for those who don't want to drive. Just take the bus to 14th Street and 10th Avenue. There are also various subways you can take here. Check out Little Island for the best subways to take to the park on their website.
If all else fails, you can always hail a taxi to take you right to the park!
Spectacular Views from Little Island NYC
There is not a bad view when taking a walk around Little Island in Manhattan. Be sure to walk around the whole island to catch the views of every angle.
Southwest Overlook
My personal favorite view is at 'Southwest Overlook' looking south at the Financial District. This observation deck is located on the southern end of the island.
From the 'Southwest Overlook' you get great views of the Financial District skyline. No matter what borough I am in, my eye is always to the sky to find 1 World Trade Center.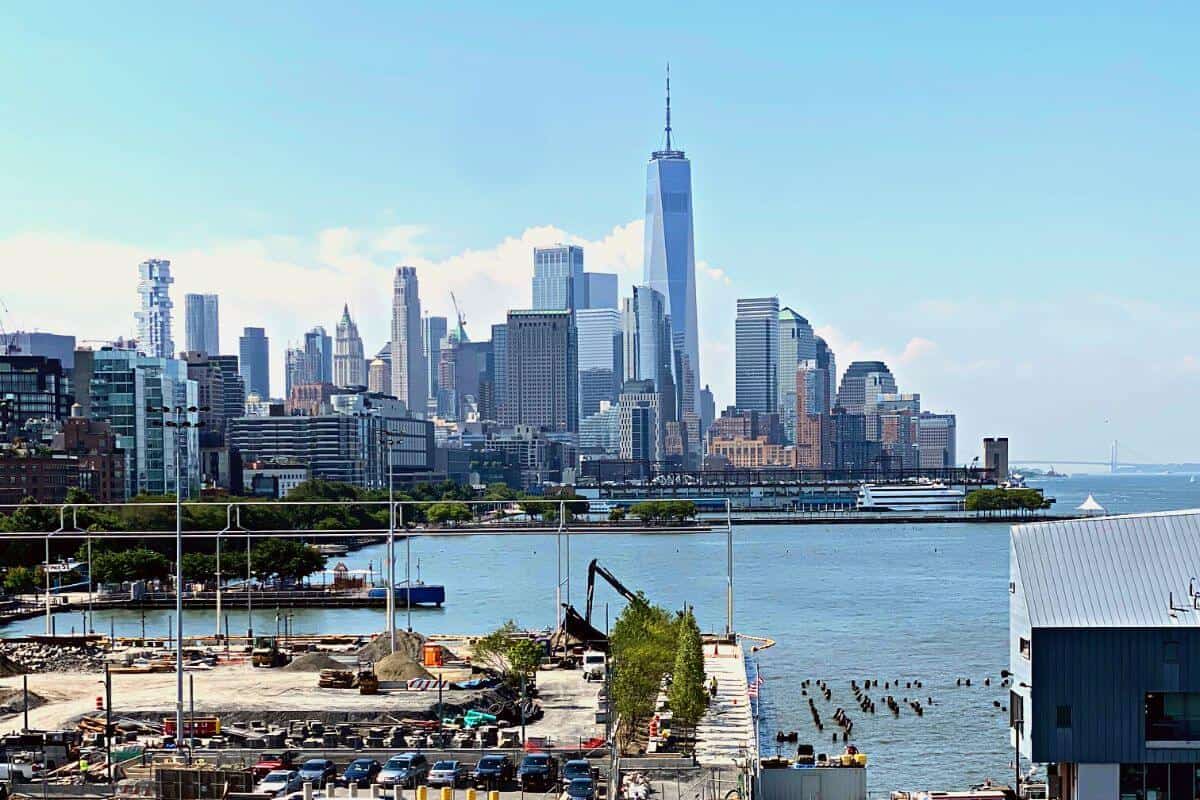 Northwest Overlook
There is also another high point on Little Island worth visiting. Located just north of 'The Amph', be sure to keep a lookout for New York City skyline icons.
Looking east and north gives you great views of Chelsea's Meatpacking District as well as Midtown Manhattan. I love seeing all of the new skyscrapers going up dotting the NYC skyline. If you look hard enough, you will be able to spot the Empire State Building.
Features at Little Island NYC
Once you get to the park, there are several things to see, other than the amazing views of Manhattan.
Unique Green Space
What I find fascinating about the Little Island at Pier 55 is the design. Built atop the remains of Pier 54, Little Island consists of 132 concrete 'tulips' that support the green space. The design is by Heatherwick Studio.
Each concrete 'tulip' is designed with different loading criteria to support the various plants that can be found on Pier 55. As part of its design, more than 66,000 bulbs and 114 trees were planted. There are over 350 different species of plants that call Little Island NYC home.
Once you are on Little Island you won't be able to tell the difference between other parks that you may find in NYC. The close attention to detail with the local landscape has you thinking you are really 'out in the wild'. I still can't believe the island can grow full trees
Little Island NYC Amphitheater (The Amph)
Little Island also hosts a 687 seat amphitheater located on the northwest corner of the island. The Amph has a number of ticketed events all summer long. Enjoy some summer concerts while the weather is warm.
Be sure to visit littleisland.org to check out the upcoming ticketed event calendar. All tickets are general admission. Be sure to get a ticket to secure a seat!
The Glade
Little Island at Pier 55 is also a lovely place to attend some free events with the family. Sunday serves as the family night in the park. On Sundays, The Glade is set up for an evening of family games and programming. What better way to wind down for the upcoming work week?
The Glade is a lawn open set up where a number of the free events take place. Other weekly free events at The Glade include performances from singers on Wednesdays and Comedy, Spoken Word, or Poetry on Thursdays. If you are interested in performance spaces, be sure to apply to Little Island's Perform in the Park program.
Take note, public restrooms are located near The Glade in case you have to take a quick break from the action.
The Play Ground
The other open space in the park on Pier 55 is The Play Ground. This area features food and beverage options, free pop up events, and free late night activities. Be sure to check out one of their three concession stands.
The Play Ground also features fun Friday night's out. Be sure to stop by between 9:30-11 for trivia, drag bingo, and more.
Check out Little Island's website to see the full itinerary of weekly events that are offered at both The Glade and The Play Ground. They offer fun, weekly activities to do Wednesday through Sunday.
I'll have to plan a Thursday night out to catch one of the Comedy shows. They also offer plenty of educational programming that I will have to bring my daughter to when she gets a little older.
Why Visit Little Island NYC
This unique public park located in the heart of the Meatpacking District is a must see for locals and visitors. With rolling hills over the remains of Pier 54, the ecosystem Little Island presents is a wonder for all to see.
Enjoy the amazing views of the surrounding skyline around the western shores of Manhattan. Be sure to visit the Southwest Overlook for some iconic shots of the financial district.
Be sure to visit the island in the evening Wednesday through Sunday to catch one of the free events that Little Island hosts. In addition, be sure to check out the calendar of events to catch an event at The Amph.
No matter your interests, Little Island has something to do for everyone in the family.
FAQs
Is Little Island worth a visit?
Absolutely! There is plenty to do on this island on the Hudson River. From stunning views, to shows, to family-fun, there's something for everyone to enjoy at this popular park!
Is Little Island free?
Yes! Not only is it free to get into the park, but there are also various free activities to enjoy at the park!
Does Little Island have parking?
Little Island itself does not have parking. There is free parking nearby and metered spots nearby on the street. However, this parking does fill up quickly. If you're looking to park in a garage, MPG Manhattan Parking located at 450 West 17th St between 9th and 10th Avenues is the nearest public paid parking garage.
When is Little Island open?
October 31st to March 13th, the park is open from 6am to 9pm. From March 14th to May 25th, the park is open from 6am to 11pm. From May 26th to September 5th, the park is open from 6am to 12am. From September 6th to October 30th, the park is open from 6am to 11pm.
How long does it take to walk Little Island?
As the name suggests, this park is little. It can take anywhere from 15 to 30 minutes if you're just walking. But, be sure to stop and enjoy the views and things to do at the park!
Related
Need a few more ideas for sightseeing in New York City? Be sure to check out our other NYC guides.