10+ Ideas For A Block Island Day Trip
If you're looking for a quick getaway that's not too far from home, a Block Island day trip is a great option. Just an hour or less by ferry, the island offers stunning coastal views, plenty of outdoor activities, and a relaxed atmosphere. So if you're looking to get away for a day, Block Island is definitely worth checking out.
Block Island is located just off the coast of Rhode Island and can be easily reached by ferry. The island is known for its sandy beaches, lighthouses, and bike paths. Visitors can enjoy swimming, sunbathing, fishing, and hiking. There are also a few restaurants and bars on the island.
The island is only 7 miles long making it an ideal spot for a short stay. If you're looking for a fun day trip that's not too far from home, Block Island is a great choice. With its charming small-town atmosphere, beautiful coastline, and delicious food, there's something for everyone on this island.
What to Do
If you're looking for a quick getaway from Southern New England, Block Island is the perfect destination. There's plenty to do on the island, from exploring its unique villages to enjoying time at the beach. Here are some of the top things to do on Block Island.
1. Visit the Old Harbor Historic District
You'll want to explore the charming shops and restaurants located just off the ferry area in the Old Harbor Historic District. You can hit this spot as soon as you arrive on the island or right before your departure.
2. Rent a bicycle or moped
The best way to explore the island's scenic roads is on a bike or moped. There are plenty of places throughout town with great biking opportunities.
For example, there is a 7.5 mile Loop Trail that starts near the ferry terminal and includes nine stops within the southern end of the island before returning back to the ferry dock. If you want to venture to the North Light, you can add another 8.5 miles and check out another three spots, including the lighthouse.
Something to be aware of is the fact that moped rentals are seasonal. One year, we went to Block Island for my birthday because I wanted to see the seals. We were planning on renting mopeds to get around, but they only had bike rentals.
Be warned, biking the island is tiring and time consuming due to the hilly landscape. If you're looking to get around quickly, I highly recommend getting a moped!
3. Walk through trails
Take a walk on along one of the many beautiful trails that crisscross the island. The trail system includes both paved paths as well as dirt ones.
You'll find these trails in several different locations around the island. They vary in length depending on where they lead. Some offer breathtaking views while others take you through quiet wooded areas.
4. See the animals at Abrams Animal Farm
Not far from the ferry drop-off is Abrams Animal Farm. So it's an easy walk if you didn't bring a car.
You can feed the animals there, which is lots of fun! But, there's more than just animals at this farm. There is a small shop where you can get clothing and gifts. My sister and I got matching llama pens.
Additionally, there is as a place to have a bite to eat. I had a delicious frozen lemonade the last time we went.
5. Stop at the historical society museum
Visit the Block Island Historical Society located on Old Town Road and Ocean Avenue if you want to learn more about the island. The museum is located within a large historical house that dates back to 1871.
You'll learn interesting facts about the island such as how it's changed over the years. There's also a small gift shop that you can browse.
6. Relax at the beach
Take time out of your day at one of the many beaches on the island. The Fred Benson Town Beach has plenty of parking, changing areas, and showers.
When we went in the summer, the beach wasn't as crowded as many of the ones we have back home in Connecticut!
7. Visit the Southeast Lighthouse.
Built in 1874, the Southeast Lighthouse became a designated US national historic landmark in 1997. But there's more to this location than just the lighthouse.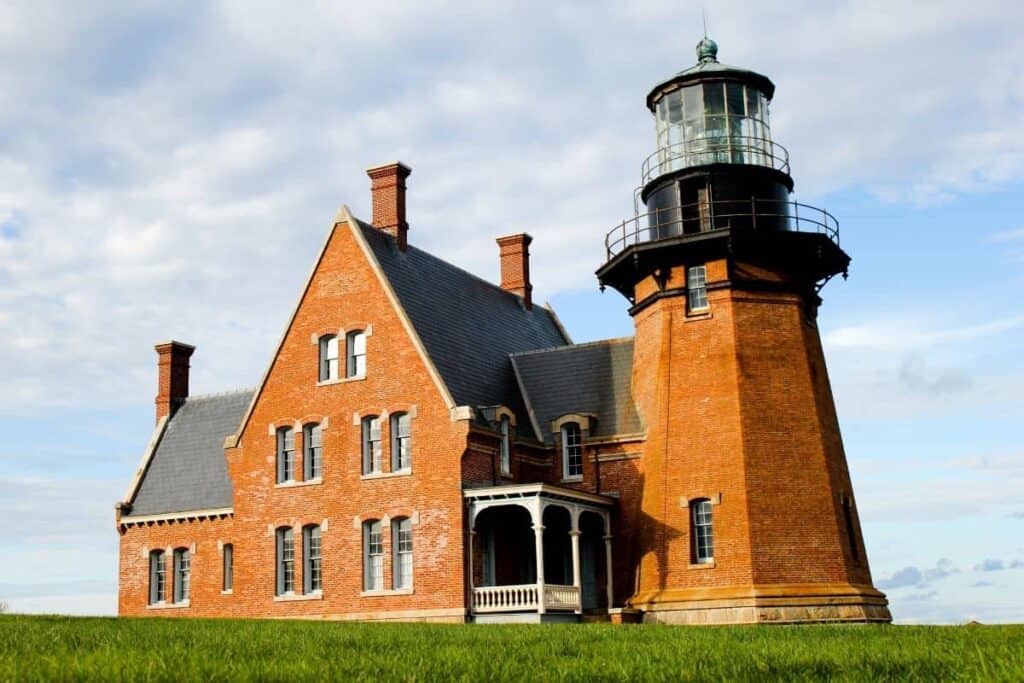 The steep slopes of the bluff it sits on are 200 feet above sea level. They extend about 3 miles along the southeast shore of the island. It's really quite beautiful between the lighthouse and the bluffs!
8. Explore the Mohegan Bluffs.
This is probably one of the most popular destinations on block island. It's rare that you don't see an image of these beautiful bluffs when a friend visits Block Island.
You can take the stairs down to the beautiful beach. It's a great spot if you're willing to carry all of your stuff down!
9. Take a hike at Rodman's Hollow
If you aren't sure what trail to walk, Rodman's Hollow is a top pick! It offers panoramic views of the Atlantic Ocean and access to Black Rock Beach which is one of the island's finest coastal spots.
The scenic hike takes you through a scenic 230-acre glacial outwash plain filled with native trees and shrubs. It's a relatively easy walk that has some flat and steep paths. It's one of the best trails for hiking in Rhode Island to see the Atlantic Ocean!
10. Enjoy local seafood
There are some great restaurants on Block Island where you can stop in and have some fresh caught seafood. Our favorite spot to stop at for seafood is The Beachead.
The food is super delicious and you are sure to find something to please every taste. It has a lot of variety on the menu and even pleased my little sister who is super picky.
Here are a few other local restaurants where you can get great food during on Block Island.
11. See the North Point Lighthouse
If you head all the way north along Corn Neck Rock, you'll see a small parking lot.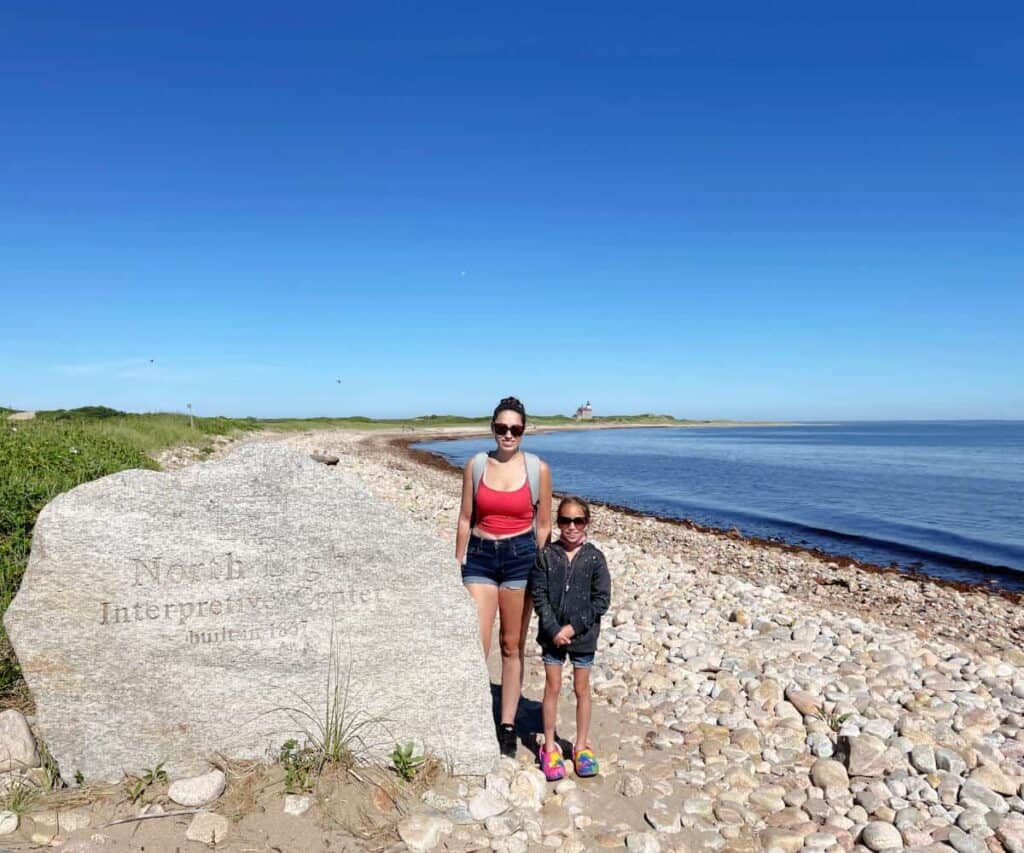 You'll have to walk along the rocky beach to see the island's oldest lighthouse, the North Light. If you go past the lighthouse, you may even see some seals swimming in the waters or hanging out on a sandy area of the beach!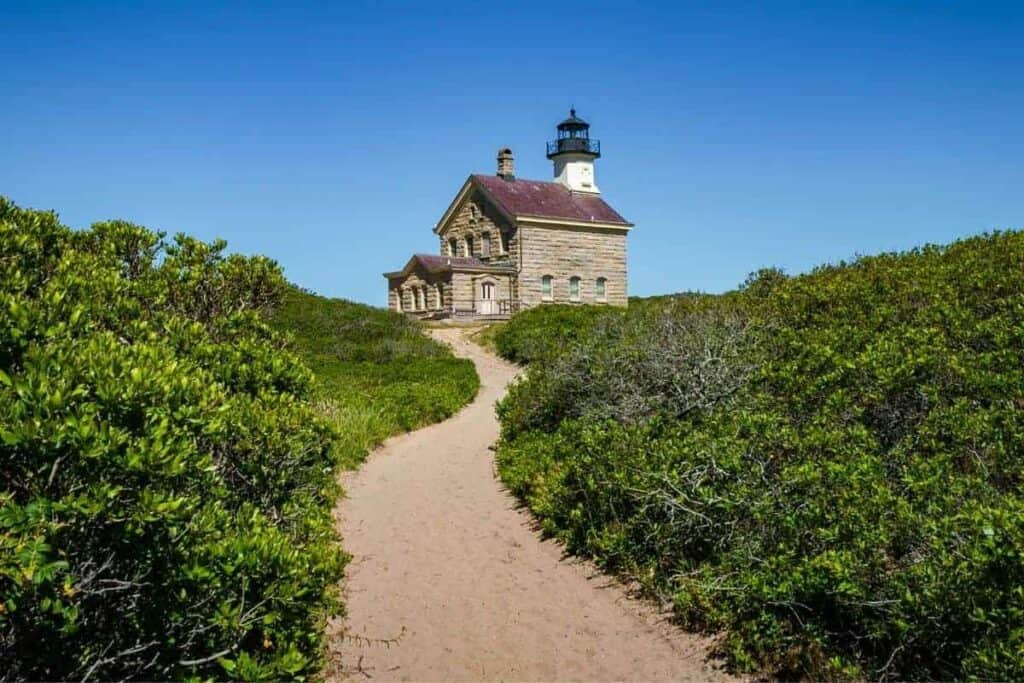 When to Go
Block Island is a beautiful place to visit, no matter what time of year you go. However, there are certain times of year when the island is especially nice, and there are also some things that you can only do during specific times of year.
The following information will help you decide which season is best for traveling to this amazing destination.
Spring
In the spring, the island is starting to come alive again after a long winter. In April, the wildflowers begin blooming all over the island.
This is one of my favorite months to visit because I love seeing nature at its most colorful. If you're looking for something fun to do while visiting the island, try taking a walk around a beach where the flowers bloom.
Summer
The most popular time to visit is the summer as the weather is perfect for swimming along the sandy shore. It's also when many people are traveling so there may not be that much availability on the ferry schedule and other transportation options.
The ocean breezes do keep the air cool so it's never really blazing hot. However, you may not want to bike all the way to the lighthouse on the north end in the heat of the summer.
Fall
The fall is a great time to visit as the busy summer tourist season is over. There will still be some tourists but they'll be more spread out than during peak summer months.
Winter
If you don't mind the cold, you can definitely visit Block Island in the winter. But there can be lots of snow and you never know when a major storm will pass through.
Going in the winter can be really rewarding because there's less crowds and wildlife to be seen. I like to visit in the winter to see the seals!
How to Get There
A one day getaway to Block Island is the perfect way to enjoy everything the island has to offer. There are several ways to get there, depending on where you are located. Ferries run from several ports in Rhode Island, one in Connecticut, and one from Long Island, New York.
If you want to take a car, you'll have to leave from Point Judith, in Naragansett Rhode Island which is the closest port to Block Island. The car ferry takes about an hour and runs year round. Advanced ferry reservations are needed to take your car and you'll want to book early for the best times.
You can also take a high-speed passenger ferry from Point Judith that gets you there in under 30 minutes. The passenger ferry is seasonal and only runs May through October.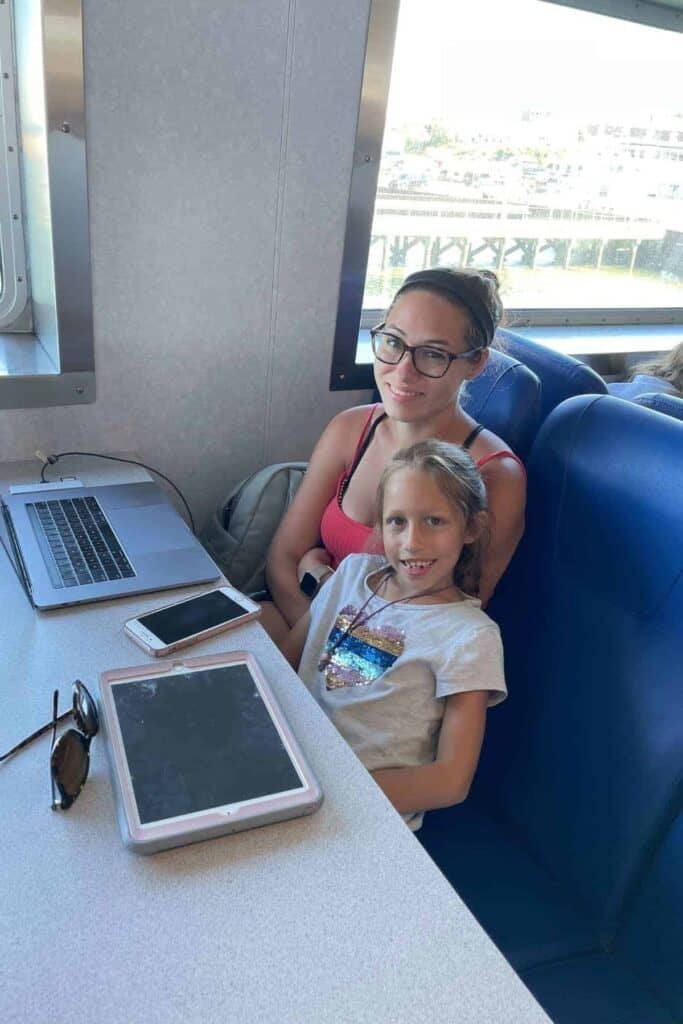 You can also catch a high speed ferry from Newport, Rhode Island. Which operates through August. It's about a one hour ride.
If you are coming from Connecticut, there is a passenger ferry that leaves from New London near the train station. It runs from May through September and is a high-speed that takes a little over an hour.
Coming from Long Island, New York, you can take a fairy from Montauk. The trip takes about an hour. The schedule runs Memorial Day through Labor Day.
Once on the island, there are plenty of things to do whether you have a car, bike, scooter, or just your feet.
What to Bring
Are you looking for some summer fun? Block Island might be the perfect destination. This small island located off the coast of Rhode Island has plenty of activities to keep you busy.
But what should you bring with you on your trip? Here is a list of some essential items. sunscreen, hats, water bottles, insect repellent, swimsuits, towels, and snacks. You might also want to bring a book or some games to play while you're relaxing on the beach or sitting in the ferry.
FAQs
If you've never taken a quick trip to Block Island, Rhode Island, you may have a few questions before planning your trip. Here's some of the commonly asked questions people have.
Is Block Island worth a day trip?
Yes, Block Island is definitely worth the trip for a day! The island is home to beautiful beaches, charming shops and restaurants, and stunning coastal views. There's also plenty of outdoor activities to enjoy, such as hiking, biking, and kayaking.
How do you get to Block Island in one day?
There are a few different ways to get to Block Island in one day, but the most common way is to take the ferry from Point Judith, Rhode Island. The ferry ride takes about an hour and a half, and there are several departures throughout the day.
Can you get around Block Island without a car?
Yes, there are a few ways to get around Block Island without a car. You can bike, walk, or rent a moped.
What are the popular attractions on Block Island?
Some people enjoy the beaches, while others like to explore the island's many hiking trails. There are also a few lighthouses and museums that are popular tourist destinations. The Mohegan Bluffs and Rodman's Hollow are top picks if you want to see the best scenery.
What is the weather like on Block Island?
The weather on Block Island varies by the season. The island is located in the middle of the Atlantic Ocean just off the coast of Rhode Island, so it's cooled by the ocean breezes. The summers can be hot and humid while the winters are usually cold and windy.
Related